Avoid Kenny Picket in Rookie Drafts

One player I'm just completely avoiding in dynasty rookie drafts this year is Pitt Quarterback, Kenny Pickett. The 6'3" 220-pound athletic quarterback is considered by most to be the 2nd best QB prospect from this rookie class behind Malik Willis. No, I'm not completely avoiding him due to hand size or that fake slide he pulled vs Wake Forest that created an NCAA rule change, although it did cross my mind. For me, it's when you look at his profile and how some big negatives (listed below) jump out.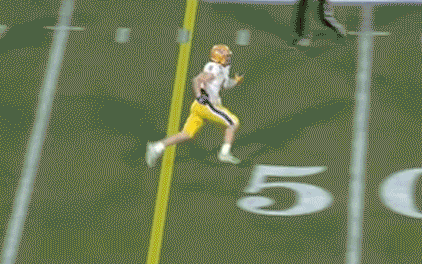 Pickett's fake slide vs Wake Forrest
College Quarterback Rating:
60.9
(14th Percentile)
College Pass Yards Per Attempt:
7.3
(21st Percentile)
Breakout Age:
21.3 (35th Percentile)
To not even rank higher than the 50th percentile in the above metrics is alarming. Yes, he was great his senior year, but that was the only year he produced at a quality level during his time at Pitt. The 5-year player had three-straight seasons with no more than 13 touchdown passes prior to his 42-touchdown season this past year. Which segways to my next point, he will be a 24-year-old quarterback when he enters the league. He's older than Jalen Hurts and just a few months younger than Justin Herbert who both are going into their 3rd NFL season. You don't see many quarterbacks or really any position do as well when they enter the league at an older age, because simply put, they're just usually not as good. Otherwise any player not named Matt Leinart would have entered the league much sooner. It's very rare to find a Kurt Warner type player.

Bottom line for me is Kenny Pickett has only shown one season of good quarterback play. Prior to last season, he was not good. It's risky taking a chance on a player with only one good season of production. They need to be breaking NCAA records like Joe Burrow did to ignore that fact. Because he played at Pitt for 5 seasons, you could probably say he's the most NFL-ready, and he does possess decent athleticism, however to me he's a low ceiling prospect who I see as more of a Christian Ponder type backup in the NFL than a long-time starter. He's currently going as a mid-third round dynasty rookie pick. My advice is to take some flyers on other players at different positions with that pick. If you do decide to go quarterback in that range, I'd look at Desmond Ridder who at least possesses some Marcus Mariota level athleticism that can be useful for fantasy.
Steve Rippy is the owner/creator of Fantasy Guides. He's been playing fantasy football for nearly 20 years and has a virtual shelf full of digital trophies thanks to his "healthy" obsession with the game.
---