Featured Article: The Fantasy Football Show
Clyde Edwards-Helaire doesn't just have top 10 RB upside in my mind, he has the kind of talent that could land him in the top five overall in fantasy football by his second season.
"I haven't had a stronger gut instinct about a player since Patrick Mahomes in 2018 and Arian Foster in 2010."
— Smitty
I get it, he has never played a down in the NFL yet. I understand that he has a smaller frame, and yes I have read all of the breaking news that suggests that he will share carries with Damien Williams in 2020. That's noise. My gut instinct has brought me this far in my 16 years in the fantasy football industry, and I haven't had a stronger gut instinct about a player since Patrick Mahomes in 2018 and Arian Foster in 2010.

No rookie running back in this 2020 NFL Draft class has the left-to-right ability that this kid has, and no one in the NFL currently has the micro-movement abilities that this runner has. In fact, we haven't seen Clyde's micro-movement running style brush up against the NFL since Maurice Jones-Drew. He is the next MJD. This kid can make anyone miss and his low center of gravity makes him near impossible to knock over. It's like trying to knock over a bowling ball. Mix in that micro-movement style of play, defenders roll off him like clockwork, and he dominated the best defenders in college over and over again. No college rusher faced, and destroyed, better talent than CEH. So, it's an understatement to suggest that he passes the eye test for me.. in fact, he aces the eye test. And, I've never seen a GM, head coach and star quarterback all three agree, in unison, on the drafting/adding of a player. All three feel this kid is the best college player in this 2020 NFL Draft class.
Joe Burrow calls CEH the best player he has ever played with, and Burrow has been teammates with both Bosa brothers, Michael Thomas, Zeke Elliott.. the list goes on. In the Chiefs spread-out attack, an environment that perfectly meshes with CEH's skill set, I think we are witnessing the birth of that next elite running back. I think we are about to see a runner catch 60+ passes almost every season he is healthy. Situation and talent couldn't have collided any better on this one.
Be sure to check out everything Smitty at his website in the link below, as well as pretty much every social channel there is.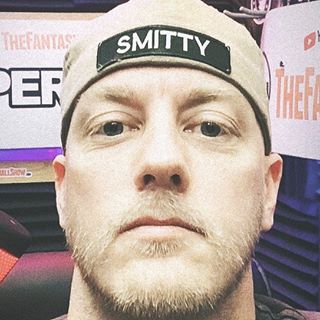 @thefantasyfootballshow
---
Smitty is just 1 of 40+ analysts who I want to thank for helping contribute to my 2020 Draft Guide. 👏  
---
---