Pitts Will Thrive With Marcus Mariota
Marcus Mariota signed a 2-year deal with Atlanta immediately following the trade of long-time Falcons' signal-caller Matt Ryan. Whether or not Mariota can pull a Ryan Tannehill (who replaced him in Tennessee) and revitalize his career remains to be seen, but the fact that one of his former coaches Arthur Smith is the one who hired him is a good start. There is still a chance that Atlanta takes a quarterback with the number 8 pick in this year's draft. If that happens, then Mariota's chances of starting the entire season likely go away. However, this quarterback class is not particularly strong. In fact, many have called it a historically bad class that's not worthy of a Top-10 quarterback being drafted. So there is a decent chance that Atlanta goes with the best player available at 8 and gives Mariota a chance to shine this season.
So what does this mean for Kyle Pitts?
During his 9-year career prior to playing with Mariota, former Tennessee Titans' tight end Delanie Walker had never finished higher than the TE9 in ppr scoring and never recorded more than 63 receptions or 6 touchdowns. Cut to Mariota's rookie season in 2015, the 31-year old Walker recorded a career-high 94 receptions for just under 1,100 yards and tied his career-high in touchdown receptions. Not bad. He would finish as the TE2, TE5 and TE4 over the first three seasons playing with Mariota. And he did all of this after the age of 30. Like Pitts, Walker wasn't your typical inline tight end. He was a 6'1" 240 pound hybrid with 4.5 wheels. In 2018, Walker had a bad ankle injury during the first game of the season, which pretty much ended his career. All together, Marcus Mariota and Delanie Walker played in 41 games together, and Walker's per-game averages with Mariota were as such:
7.2 Targets
4.9 Receptions
58.5 Yards
13.2 PPR Points Per Game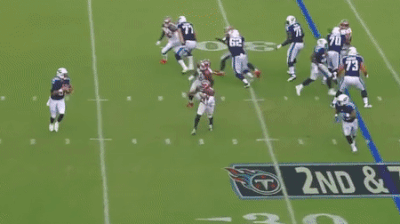 Mariota to Walker during Mariota's rookie season.

Using that 13.2 points per game and comparing it to tight end scoring over the past five seasons puts Walker's average scoring as a Top-5 option most seasons. That's pretty good. The connection between Mariota was obviously very strong.

Let's talk about Falcons coach Arthur Smith
During the 2021 NFL Draft, the Falcons had the opportunity to draft Justin Fields, Mac Jones, Ja'Marr Chase, Jaylen Waddle and Micah Parsons just to name a few. Instead, they opted to take a freak athletic tight end out of Florida with the 4th overall pick. The highest any tight end has ever been drafted. Arthur Smith knew how much of a weapon he could be. Of course he did. Wanna know why? Damn right you do. Remember I mentioned he was one of the Titans' coaches back when Mariota was drafted, well he just so happened to be Tennessee's Tight End coach during those aforementioned seasons when Delanie Walker and Marcus Mariota were having such great rapport. If any coach knows how gameplan to the tight end, it's Smith.
And while the Jonnu Smith breakout never really happened when Smith switched over to offensive coordinator of the Titans in 2019 and 2020, Derrick Henry and AJ Brown may have had something to do with it. No need to force the ball to your tight end with those two playmakers on the field. Also, seeing how Jonnu Smith performed in New England last season, he may just not be all that good. Kyle Pitts is.

Yeah, but Atlanta has nobody to take coverage away from Pitts.
This is absolutely true. Julio Jones is long gone, Calvin Ridley is hanging out with Pete Roze in Vegas next season, Hayden Hurst left for Cincinnati and Russell Gage took I-75 south about 7 hours to play with the GOAT. The wide receivers Pitts will be lining up next to currently include KhaDarel Hodge, Olamide Zaccheaus and Damiere Byrd. The three wide receivers accumulated for a combined 70 receptions last season. Yikes! Now they did resign Cordarrelle Patterson which will help some, but still.
Here's the thing though. When Smith was the Tight Ends' coach and Mariota was a rookie, his best wide receivers were Kendall Wright, Harry Douglas and Dorial Green-Beckham. DGB...remember that guy? Wright and Douglas both led the wide receiver group in receptions that year with a mere 36 each. THIRTY-SIX! Compared to Walker's 94 receptions. In 2016, Rishard Matthews was Tennessee's best wide receiver and he accounted for just 65 receptions, tying Walker. Finally in 2017, the ghost of Eric Decker was Mariota's best wide receiver and was only able to secure 54 catches. 20 short of what Walker was able to do.

Marcus Mariota threads the needle to Delanie Walker between a plethora of defenders.
Bottom line, Marcus Mariota had some horrific wide receiver weapons during his time in Tennessee prior to AJ Brown's arrival. In fact, I can't think of a quarterback who has had worse wide receiver options to start his career. Even so, with Delanie Walker being the best option he had, he still found a way to force feed him the ball. He will do the same with Kyle Pitts.

But Mariota just isn't good
Mariota has not been a good NFL quarterback. In fact he's never even broken the Top-20 in PFF grading during his entire career. He appears to have been a college system quarterback who hasn't been able to grow at the next level. However, after seeing what tools he had to work with, is it possible he wasn't given a fair shake? Former Raiders head coach Jon Gruden saw something in him, which is why he brought him over to the desert. He didn't get much action there playing behind Derek Carr, however during a Thursday Night game vs the Chargers in 2020, he was forced to enter the game in the 1st quarter due to Carr tweaking his hamstring. During that contest he went 17 of 28 for 226 yards and a touchdown while also adding 88 rushing yards and another touchdown, beating Justin Herbert and crew in overtime. And guess who his number one weapon was in that contest? A freak-athlete wide receiver turned tight end, Darren Waller. The two connected on 9 passes for 150 yards and a touchdown, good for 30 fantasy points. Small sample size? Sure. But when you add it to all the stats I just listed for Delanie Walker, it adds another piece to the puzzle. I actually remember this game very well as I was in a fantasy playoff matchup where my opponent had Waller. I was screaming at Mariota to throw to someone else on the field. Mariota has an affinity for tight ends, at least the good ones. Kyle Pitts will be no different.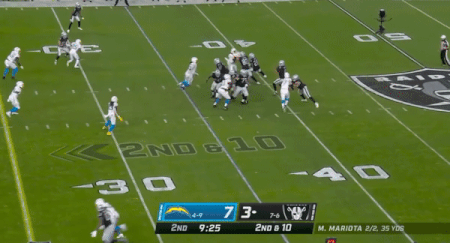 Mariota throws a touchdown pass to Darren Waller.
Bottom line, if Mariota is the starter in Atlanta this upcoming season, I'm not worried about Pitts. He's one of the most athletic tight ends we've ever seen, and Smith and Mariota will find ways to get him the football. Mariota has always been good at targeting his tight ends, and Pitts could be the best one he's ever had. I expect great things from him in 2022.
Steve Rippy 

is the owner/creator of Fantasy Guides. He's been playing fantasy football for nearly 20 years and has a virtual shelf full of digital trophies thanks to his "healthy" obsession with the game.
---