Redraft Debate: Andrews vs Hockenson?


Article by the Fantasy Guides' Team
Throughout the offseason, we will be providing opinionated articles on fantasy players who are ranked very closely in our overall dynasty rankings. Have some players you want featured next? Comment below and we may just feature them in our next article.
---
So clearly no one can sniff Travis Kelce's volume and production right? Wrong. Mark Andrews led all TE's in target share last season with a ridiculous 29%. Andrews tied for the 8th highest target share out of any receiver in the NFL. Plus, he has been TE1!  
In order to be TE2 he only has to improve one spot from the TE3 ppg pace he had in 2022. Oh ya, and 2022 was a BAD year for Mr. Andrews. The Ravens TE will be walking into basically the same situation he thrived in 2021 and 2022. I like Bateman as a bounceback player but no one will significantly eat into his piece of the receiving pie that got him 7.5 targets/game.
"With Tyler Huntley throwing him the ball for 4 games in 2021, Andrews averaged 26.3 ppg"

— Andrew Teuscher, Fantasy Guides —
Calling Mark Andrews as the TE2 next year seems like cheating considering the fact that he's the only dude not named Travis Kelce to have a TE1 finish since 2018. Andrews clearly has the upside to do it again, even if Lamar doesn't come to play next year. With Pro Bowl QB Tyler Huntley throwing him the ball for 4 games in 2021, Andrews averaged 26.3 ppg. I view it this way. If Lamar is there, then Andrews has his guy back. If Lamar isn't there then the whole offense runs through Andrews like it did in that 4 game stretch in 2021.
Andrew's Pick: 

Mark Andrews
---
TJ Hockenson has proven to be a top 5 TE and I believe next year he will be the league's number two tight end. I wouldn't be surprised to see him sneak in as the number one spot if he sees more touchdowns in 2023. In 2022 Hockenson saw an average PPR points of 13.3 on the season. There is an important note to this stat, Hockenson was traded to the Vikings where he averaged 14.4 PPR points a week compared to the 12.2 points per week he scored with the Lions. Hockenson also saw an increase in targets after joining the Vikings.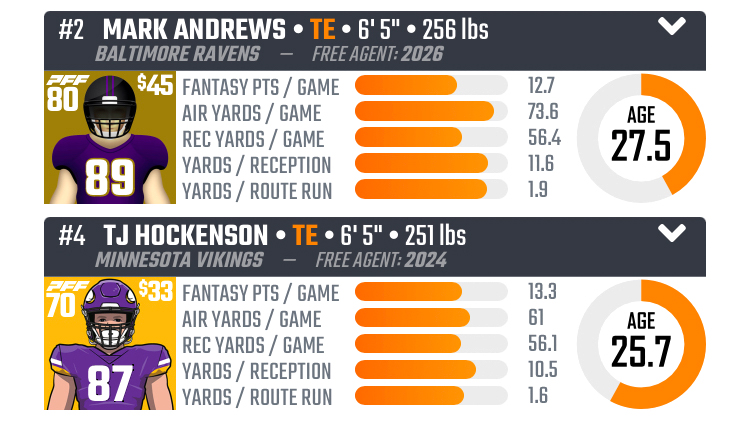 As of now the vikings receiving core is rather thin after Jefferson. Adam Thielen is past his prime and KJ Osborn leaves a lot to be desired. The Vikings may draft a receiver this off-season but I do not expect them to make a splash their rookie year. Hockenson should see a steady target share because of this. While Kirk Cousin may not be an elite QB, he does average 38 throws a game. As of now Hockenson is the clear number two on that team and you can count on him seeing a lot of throws going his way in 2023. So to recap, Hockenson averages 14.4 points a game with the vikings, and sees a high target share in a pass heavy offense. If Hockenson see double digit touchdowns this upcoming season, I expect him to be the TE #2.
AJ's Pick:

 

TJ Hockenson
---
Who better to finish 2023 as the TE2 than the TE that finished as the overall TE1 just 2 years ago? We know Andrews is capable. And even last year, Andrews was off to a hot start, recording 5 TDs and 4 games with 89+ receiving yards. Good enough for the TE2. He even averaged the same PPG last season as the TE that finished 2nd (Hockenson).
But things fell off for Andrews the latter half of 2022, mostly due to inconsistent QB play all around. Lamar missed games at the end of the season, which did Andrews no favors. What it really comes down to for Mark Andrews fantasy success, is will Lamar Jackson play 17 games, and will he be on the Ravens? If you believe those things, like I do, Andrews is the clear cut TE2 with TE1 upside.

Regardless of what happens with Lamar, the fact of the matter is that Andrews is the top receiving option for the Ravens. And there's not a free agent out there that would change that. Even if the Ravens draft a top prospect at WR, given how poor the Ravens are in that area, I wouldn't expect any single player to cut into Andrews workload enough to hurt his fantasy upside and floor. His workload is safe, the offense is willing to run through him, and we've seen him outpace Travis Kelce before. He's the best bet at TE2 in fantasy drafts this year.
Jacob's Pick:

 Mark Andrews
---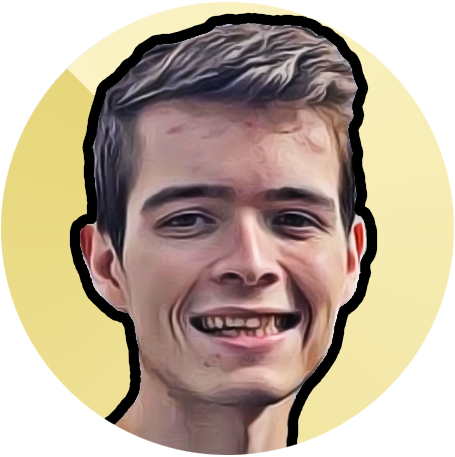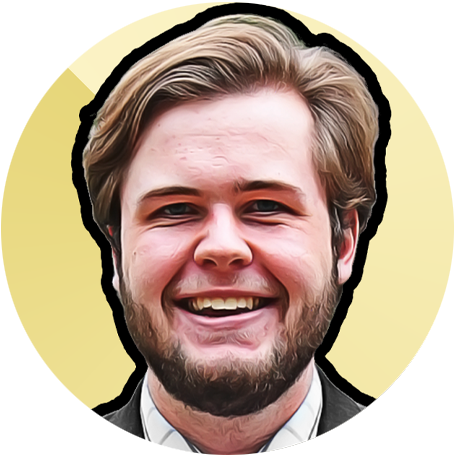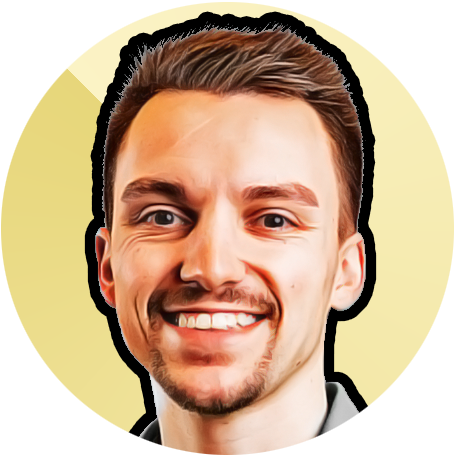 Andrew, AJ and Jacob are contributors at Fantasy Guides. Their work is represented in articles, Instagram Posts, website rankings, podcasts and a plethora of other areas. They have a Fantasy Football obsession that through therapy have grown to accept and realize....it's OK.