Should Have Known Guys Part 2
Here we will continue to find the players that leave you thinking "I should have known" whenever they have a massive fantasy performance in 2022. Again, the guys I am trying to break down are not absolute nobodies but they are also not being regarded as top fantasy options either. These are players that at the end of the year you will be kicking yourself for not acquiring before the season starts. If you have not already, click here and go check out the last article to see the first player I broke down and what I mean exactly by a "should have known" player. For now, let's discuss a Broncos wide receiver who is set to saddle up and leave doubters saying "I should have known".
Jerry Jeudy
Jeudy's Promising Start
Jeudy came out of Alabama as a highly touted wide receiver prospect. This was for a good reason because he dominated in an Alabama receiver room that had Devonta Smith, Jaylen Waddle, Henry Ruggs, and Irv Smith Jr. in it. Amidst this competition, at age 19 Jeudy broke out and was the number one receiver in a high-powered offense. After consecutive great seasons, Jeudy was scooped up by the Denver Broncos with the 15th overall pick in 2020. In his rookie campaign, Jeudy delivered a very solid first season. He recorded 895 yards and 3 TDs. Now, this is no Jamar Chase or Justin Jefferson rookie year, but back in my day, this was still considered a good rookie season. 
What makes Jeudy's year even greater is that he really should have been better statistically. In 2020 Jeudy got all of the delights of playing with Drew "I might get beat out by Geno freaking Smith" Lock. Lock's truly elite ability to miss wide-open receivers led Jeudy to be second in the NFL in unrealized air yards during his first season with 965. That's 965 unaccounted-for yards that were not hauled in by Jeudy because he had the 106th ranked catchable target rate. Please take a respectful moment of silence for DK Metcalf and Tyler Lockett because of what they are about to go through.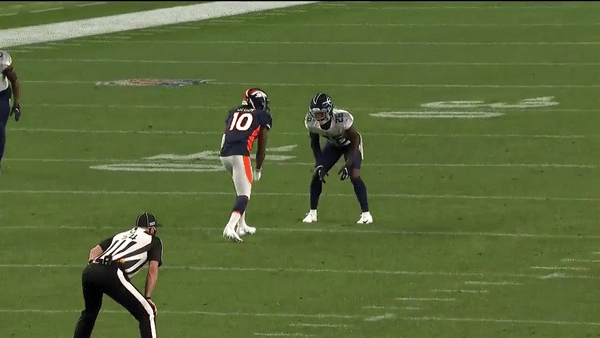 Jeudy showing off his ability to get open with little space (gif via Pro Football Focus)
Going into 2021, fantasy managers were hyping up Jeudy as a breakout second-year receiver. People saw all of the missed opportunities combined with a decent rookie season and were buying in. Despite the hype, Jeudy left fantasy players wanting more. He suffered an injury in the first game of the season and proceeded to be out until week 8. The Broncos as a whole then fell apart. Jeudy followed suit and ended the year with just 46 catches for 395 yards and 0 TDs. It's clear to see why managers of the young Bronco would be upset. However, let's talk about why you need to buy back in before you left telling yourself "I should have known." 
Why Jeudy is Poised to Explode
The biggest reason why Jeudy is ready to bounce back is that he has finally been liberated from the stranglehold that Drew Lock had on his young career. In one of the biggest moves of the offseason, Russel Wilson was traded and will be dawning the orange and navy. He will now get to throw footballs to Jerry Jeudy and company. This is massive. NFL fans need to go revisit just how great Russel Wilson has been his entire career before he had a disappointing 2021. Better yet, there is a decent chance that Russ has not even had his best season. He has been held back his whole career by a slow-moving, run-heavy Seahawks offense. Wilson's most passing attempts ever in a season would have put him at 10th overall this year. Now that he's in Denver with Nathaniel Hackett instead of longtime AARP member Pete Carrol, it is finally time for Russ to cook.
Russel Wilson has supported a top 16 fantasy WR every single season since 2015. He has done this with three different receivers. In 2020 he helped both Lockett and Metcalf finish inside the top 10 at the position. This means that whoever the Denver Broncos' top receiver is should then be a very solid bet to finish as a top 16 receiver. Now, some people have convinced themselves that Courtland Sutton will be the WR1 for the Broncos in 2022. I'm here to tell you that those people are going to be greatly disappointed. Admittedly, Sutton had a great 2019 campaign and produced in the games that Jeudy did not play in. But it becomes really obvious who the top receiver in Denver is when you compare Sutton and Jeudy in games they played together last season. Jeudy made Courtland Sutton look like a high school punter trying to play receiver. 
"Russel Wilson has supported a top 16 fantasy WR every single season since 2015" 
The Broncos receiving game looked oddly good in the first 6 weeks of the season. Jeudy even had 6 receptions for 72 yards in the one half of football that he played in that stretch. In those first 6 games that Jeudy mostly didn't play in, Sutton was the WR11. After week 6 for some reason the Broncos' passing game went from averaging 250.8 passing yards/game, 25.2 completions/game, 36.5 attempts/game, and 1.7 TDs/game; to then averaging an anemic 189.8 yards/ game, 18.5 completions/game, 29.3 attempts/game, and .9 TDs/game. The whole team took a nose dive from week 7 on, so Jeudy never really got to play in the fruitful passing game Sutton had from weeks 2-6. This is why some people are mistakingly high on Sutton and not Jeudy. 
If you look closer at the games where Jeudy and Sutton both saw the field from weeks 8 to 18, you'll notice some glaring differences in how to two performed. In that stretch of games, the Broncos' top two receivers played 9 together. Jeudy had 49 targets while Sutton had 35. Jeudy caught 32 of those targets while Sutton caught just 17 passes. Some will say that Sutton is more of an efficient, deep-ball threat and need fewer targets and catches to produce. Well, why did Jeudy have more than double his receiving yards with his 395 yards compared to Sutton's 177 yards? Is it clear yet which Broncos' receiver is the team's WR1? Shockingly, Tim Patrick actually had a better performance down the stretch than one Courtland Sutton.
Players' Stats in Games Played Together in 2021

Jerry Jeudy is like Diontae Johnson and Cooper Kupp had a Baby
Before I go any further, I must express how incredible of a receiver the beautiful offspring of Cooper Kupp and Diontae Johnson would be. After getting that out of your head, what I'm really trying to say is that Jeudy's 2022 situation vaguely looks like a combo of what Johnson and Kupp had going on in 2021. Just like Johnson, Jeudy flashed and looked like he was on the trajectory towards becoming a breakout WR. Also, just like Cooper Kupp, Jerry Jeudy will be having a much better passer tossing him the pigskin this year. Jeudy did not flash as brightly as Kupp or Johnson before their big seasons, but Jeudy also missed half of 2021 and was in a much worse offense.
What to Expect from the Broncos WR1 Going into 2022
Jeudy is the number one receiver for Russel Wilson and the Broncos QB is in the best situation he has ever seen. Jeudy was drafted to be an alpha and has been his team's WR1 since becoming a Bronco in 2020. There are weapons all over this offense so defenses cannot just stop one part of this scary, well-rounded attack. Meanwhile, the Broncos division is loaded with high-powered contenders like the Chargers, Chiefs, and Raiders. This means that the Broncos will be in constant shootouts so they will be forced to throw the ball a ton. Jeudy will be the biggest benefactor of what chef Wilson is about to dish out. According to Underdog Fantasy, people view Jeudy as the WR21 but Sutton as the WR17. Wilson has helped his top receiver finish no worse than WR16 since 2015. Go out and scoop up Jeudy as your WR2 knowing that he'll leave your leaguemates thinking "I should have known."
Andrew Teuscher is a certified fantasy try hard and contributor to Fantasy Guides