The Case Against Wan'Dale
Wan'Dale Robinson is someone who is guaranteed to have differing opinions on how successful he can be at the NFL level. When I first looked up highlights of Wan'Dale, I made the mistake of using voice to text and Wan'Dale became Juan Dale, which brought up an episode of King of the Hill involving the characters Juan Pedro and Dale.
Embed from Getty Images
Obviously, I had to start my film study by clocking Boomhauer's WPM score (it's 65 btw… I know, it seems a lot faster, but sound effects don't count as words)… after about 20 minutes I remembered what I was supposed to be doing and started painstakingly typing his name by hand, even remembering to include the sky comma between the Wan and Dale (thank you Gary Gulman).
Okay, he's checking every box and then other boxes I didn't even know he could check… so what gives? Why the 3rd-4th round grade?
Looking over the film, Wan'Dale's highlights pop. His decision-making in zone coverage is smart, his breaks out of his routes are quick, he knows how to set up his defender, his six pack looks airbrushed, and he has just the right amount of dread in his lock. Although exciting to watch, he's more of a blue belly fence lizard than a six-striped racing lizard… in other words, he's quicker than he is fast, for all you non-herpetologist enthusiasts.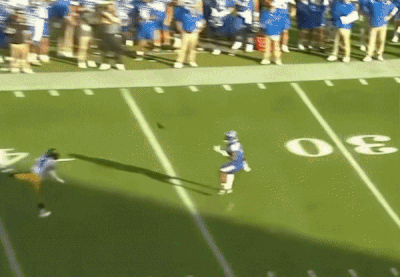 He looked a little small and he was being caught from behind a few too many times, but there was no denying his ability to get open and catch the ball. He's 5'-11" and weighs 185 lbs, so I was beginning to see him as Tyreek Hill light. Wan'Dale was quickly rising up my draft board, but I needed to make sure his PFF (Pro Football Focus) scores matched what I was seeing before I could consider moving in with him.

Wan'Dale Robinson's PFF Grade / Click Here to save 50% on an ELITE PFF Subscription with PROMO CODE: FGDRAFT50 (eligible 4/11–5/2, 2022)
I followed up his videos with a brief stop at PFF and WOW! What a stunner, 91.3 grade (3rd overall among this WR class) in 2021, and on top of that, I only have to spend a 3rd round rookie pick on him!?! Including him in my dynasty rookie draft is like including a mini-sailboat in my Tupperware purchase… "I want that."

The next stop was to investigate his bio and coaching staff. I found some interesting information about his path. He initially committed to Kentucky his freshman year, and then changed his mind to join the Huskers because the Kentucky coaching staff at the time was a run-heavy offensive scheme. After having decent production at Nebraska, he transferred back to Kentucky for his junior season. He did so after having a conversation with new Kentucky offensive coordinator Liam Coen. Football nerds may recognize that name as the former Los Angeles Ram's Wide Receivers coach. The very same coach that had a hand in drafting and nurturing Cooper Kupp 🤤. Not to be outdone, he also donated his NIL (Name Image & Likeness) money to children of incarcerated parents. Okay, he's checking every box and then other boxes I didn't even know he could check… so what gives? Why the 3rd-4th round grade? The combine was in just a couple weeks so I started taking cold showers every night in anticipation.
AND THEN…the combine happened.
The combine is always a very exciting time for me, I love to find out if the players on film match their output on the track. It's like a dog show, but for really fast humans. When I evaluate a player I only use the combine for red flags or green lights, and I ignore the middle stuff. Initially things looked fine, 4.44 - 40 time, not bad…again, not Tyreek Hill, but no concern. Broad Jump 9 feet 10 inches... not a red flag, but certainly not a green light. Vertical 34.5 inches... somewhere in between okie and dokee. Okay let's look at his measurables… 5'8", 178 lbs. Alright looks like he didn't quite come in at the 185 he was… wait… what was that just a couple lines up… 5'8"? Is that a typo? (Quickly types Wan'Dale Robinson Kentucky Bio into google).

Wan'Dale's profile on University of Kentucky's website.
He was listed at 5'11" and 185 lbs on his college bio. Where'd those 3 inches go? I want answers! Here I was ready to commit myself to a long-term relationship with Wan'Dale, and I find out he pulled a Mickey from Seinfeld and he's been heightening the whole time he's been at Kentucky!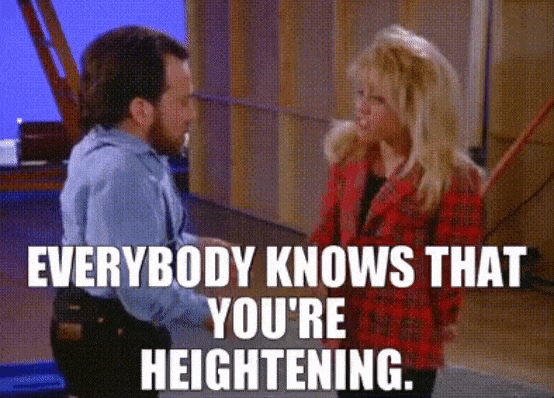 Aaaaaand there's your RED flag. That's like going on several dates with someone and everything has been going great and then one day they pull up in a lowered 97 Honda Civic with twinkly lights reflecting off the pavement. Some of you may call me a heightist, but find me one wide receiver that has been more than a WR3 under 5'9". I'll save you the voice to text, there's only one… Cole Beasley, although I think a better comp for Wan'Dale is Jamison Crowder.

⬆️ The only 5'8" WR with at least a WR2 season.

The problem with Wan'Dale is that he's small AND he's not big (yes, I know what I just typed). He's 5'8", small in WR category, 178 pounds, small in any category. Guys that size who have success at the NFL level are very rare, and if they don't have a hall of fame QB throwing them the ball, their ceiling is a WR3. Cole Beasley is also 5'8" and his best season was in 2020 and he was the WR24… barely a WR2. Jameson Crowder's best season was in 2019 and he was the WR 26. In that 2019 season, he had 122 targets. Therein lies the problem with WR's like Crowder, Beasley and Wan'Dale. They need to be peppered with targets just to get into the WR 2-3 category. Which leads me to my next point.

When thinking of whether you would like to draft Wan'Dale, you have to look at him like a piece of real estate. LOCATION, LOCATION, LOCATION! The environment that supports a small slot wide receiver that runs great routes and doesn't break many tackles is one that relies heavily on the pass and has high passing proficiency as well. There are not many locations that I am excited about. There are about three places Wan'Dale could land that would entice me to take him in the 2nd round in a dynasty draft.

#1 Tampa Bay - Duh… Tom Brady is the only current NFL player that has given a WR under 5'9" a WR1 season with Wes Welker on more than a couple of occasions. Tom Brady also threw the football more times than any other QB last season. Tampa is the only location I think that can give Wan'Dale legitimate hype.

#2 Kansas City Chiefs - Okay so it looks like I'm just running down the list of teams with the most passing attempts, but that's what you have to have if you're going to get WR3 or better stats from a guy Wan'Dale's size. Also there are a lot of targets still available in Kansas City without much competition in front of him.

#3 Green Bay Packers - This doesn't need an explanation.

After those top 3, there are several places I would like to see him, but I won't draft him in these locations because he won't get his opportunities his rookie season. I want a player I can see something from year one, or I don't want him on my roster until he has an opportunity. Locations I love him long term are:

#1 - Los Angeles Chargers
#2 - Minnesota Vikings
#3 - Los Angeles Rams
#4 - Buffalo Bills
#5 - Los Vegas Raiders
#6 - Indianapolis Colts
#7 - Dallas Cowboys
#8 - Pittsburgh Steelers
#9 - Cincinnati Bengals
#10 - New England Patriots
If Wan'Dale doesn't get selected to any of the above teams, I will avoid him like laundry on a football Sunday. If Wan'Dale goes to one of these places, you could make an argument to draft him as a long-term investment, but I would still pass and look for someone who has a better shot at getting time on the field and can't be brought down by a defender's pinky.
Alright, let's summarize this risk called Wan'Dale. Player Comp
- Jamison Crowder
Preferred landing spots
- Tampa Bay, Kansas City, Green Bay.
Where I would consider drafting him?
- Mid 2nd - Early 3rd if the temperature is just right.
At the end of the day, Wan'Dale is a very good wide receiver, but being undersized presents challenges that other wide receivers do not have to overcome, and the history of players his size being highly involved in an offense is not kind in the NFL. You have to at least temper expectations for what his ceiling could be.
Casey Rippy is a Fantasy Guides' contributor who is also a stand-up comedian and writer who has been playing fantasy football for nearly 20 years. He's still waiting patiently for the Jakeem Grant breakout season.
---