Tyreek's Role in South Beach
When I first heard the news of Tyreek Hill being traded out of Kansas City, my initial thoughts were that no matter where he goes, it's going to be a bad thing for him in fantasy, and in general, I still think that. Leaving the best passing quarterback in the NFL is not ideal. The two had a special connection and ability to create big plays.
Embed from Getty Images

However, once I saw that he was traded to Miami, I immediately thought about their new head coach Mike McDaniels and what he and Kyle Shannahan were able to accomplish with Deebo Samuel in 2021. That got me excited. It worked so well with Deebo in San Francisco, how could McDaniels not want to use Tyreek in some sort of similar way? 
"The ways we will use Tyreek Hill relative to the way that Deebo Samuel was used in San Francisco, there is probably going to be some overlap to some degree."
— Dolphins head coach Mike McDaniels
I even posted about it on Instagram that day, and had numerous comments saying that Tyreek and Deebo are not the same player, and that he will not be used in that way. Or that if anything, Jaylen Waddle would be used in that role. Cut to about six days later at the NFL's Annual Meeting and Mike McDaniels said "The ways we will use Tyreek Hill relative to the way that Deebo Samuel was used in San Francisco, there is probably going to be some overlap to some degree." 
Mike McDaniel on comparison of how Tyreek Hill can be used in his Dolphins' offense compared to Deebo Samuel in SF. pic.twitter.com/dj8oIGHott

— David Furones (@DavidFurones_) March 28, 2022
What exactly that means is purely speculative. I don't even think McDaniels knows yet how he plans to use him. He even went on to say that Deebo evolved into the role he had at the end of last season. And when you look at Deebo's game logs, you can see it. Samuel rushed the football just six times over the first eight weeks of the season, and then starting in week 10, he rushed the football 80 times over the final 11 games when you include the playoffs.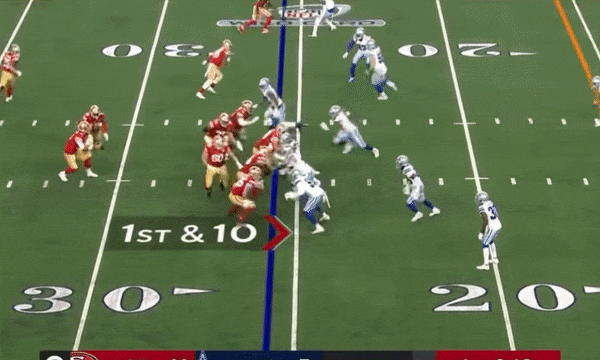 McDaniels goes on to say that essentially, Tyreek's role in week 4 could look a lot different than it does on April 4th, meaning he could evolve into a more dynamic role as the season goes on.

I decided to try and stat out some projections of Tyreek Hill in a pseudo-Deebo role to see what the numbers might look like in this role. Here was my process.
Fun fact: Tyreek's most efficient season where he averaged 11.3 yards per target came with Alex Smith at quarterback and not Patrick Mahomes.
I started out with his receiving role. Over the course of Tyreek's career in Kansas City with both Alex Smith and Patrick Mahomes at quarterback, Tyreek Hill has averaged a target share of 23.2%. I excluded his rookie season when he was not in a full-time role. He has averaged 9.4 yards per target over his career. So I used those numbers as a baseline to build out possible receiving usage and efficiency.

I then looked at what San Francisco has done in the passing game over the past couple of seasons given that McDaniels will likely try to run some sort of similar offense. Over the past three seasons, San Francisco has been one of the most run-heavy teams in the league. They have averaged just 31.9 passing attempts per game during that span. I went ahead and applied that number to Miami. I would expect the number to be a bit higher than that, but I think it's a good floor number to use. I then took some liberties and upped Tyreek's target share from his career average of 23.2% and increased it slightly to 25%. Given the Dolphins are paying him $30 million per year, I think they will do all they can to use him as much as possible, and 25% isn't a crazy-high number. So, using San Francisco's passing numbers and applying that to a 25% target share, that puts Tyreek at around 7.9 targets per game. Multiply that by 17 games and that puts Tyreek at roughly 136 targets for the year. I applied Hill's career catch rate of 68% to give him 91 receptions. I then took his career average of 9.4 yards per target and took that down to 8.3 given that Hill is going from Mahomes/Smith to Tua Tagovailoa. Jaylen Waddle had a yards per target of 7.2 last season with Tua, so I just split the difference. Very scientific I know. That would give Tyreek 1,121 receiving yards. Lastly, I used Tyreek's career touchdown rate of 7.9% and applied that to the 136 targets I am projecting him for. That number comes out to 10.8 touchdowns for the season. Again, I took some liberties since it's a downgrade at QB and took that number down to 7 touchdowns, which I felt was reasonable. That puts Hill's receiving numbers at:

135 targets | 91 receptions | 1,121 receiving yards | 7 touchdowns
Now I wanted to see how we could apply a semi-Deebo role to Tyreek. I used Deebo's rushing numbers he had over the last 11 weeks of the season including the playoffs to go off of, since that's when they really started to utilize him in that role. Samuel averaged 7.3 rushing attempts per game over that span. Now, Tyreek is not as big as Deebo. He's a good 35 pounds lighter, but he's not a slight framed wide receiver. He has a stronger build than most wide receivers his size. During his time at Oklahoma State, Tyreek was used more as a running back than a wide receiver. He carried the ball 102 times during his junior season and showed he could handle a decent workload.
I'm not expecting that kind of rushing volume on the ground. But I think 1/3 of that (2.4 rushing attempts per game) is reasonable, and that's what I used. Using those numbers, that would give Tyreek roughly 41 rushing attempts on the season. Using Hill's career average of 7.4 yards per carry that would give him around 303 rushing yards on the year. Hill has averaged a rushing touchdown about every 15.5 carries, so I went ahead and used that to give him around three touchdowns. So the final rushing stat line of:
41 attempts | 303 yards | 3 touchdowns 
Tyreek Hill at running back is a good timepic.twitter.com/XA2RbYm5Ha

— Ian Hartitz (@Ihartitz) March 29, 2022
All of the numbers used above are assuming he plays all 17 games. That would give Tyreek Hill 293.9 PPR points / 17.3 points per game. That is nearly identical scoring from where he finished last year with 296.5 ppr points / 17.4 points per game and a top-5-8 WR1 season.

Who knows exactly how Tyreek will be used in the Mike McDaniels offense, but I do think there is a decent chance he gets used as a rusher way more than he was in Kansas City, and if that's the case, his fantasy production may not take much of a dip at all, and I think the above stats I laid out are reasonable. I'm excited to see how his talents translate to this new offense in South Beach.
Steve Rippy 

is the owner/creator of Fantasy Guides. He's been playing fantasy football for nearly 20 years and has a virtual shelf full of digital trophies thanks to his "healthy" obsession with the game.
---