Wait It Out and Buy Low on DK
I remember many moons ago when a young DK Metcalf was the talk of the NFL Combine in 2019. When a 6'3", 228 pound, 22-year-old kid runs a 4.33 40-yard dash, he is going to get some attention. For goodness sake, the man is built like the Hulk and he recently said he gets that physique by eating one meal, some candy, and a coffee everyday. This guy definitely got bitten by a radioactive Dwayne the Rock Johnson and is now a real-life superhero playing WR in the NFL.
DK Metcalf had a very solid rookie season and showed the NFL that a dude who is built like a greek god just might be good at football. He followed that first year with a much anticipated second season. He answered and put up the WR7 season (half-ppr) with 1,300 yards and 10 TDs. He looked like the 12 year-old kid playing peewee ball.

2021 had a different tone though. Sometimes a fantasy season can feel like it lasted a decade. I believe this is the case for Metcalf's frustrating 2021 season. DK got off to a HOT start in the first five weeks before Russel Wilson's finger appeared to break like a celery stick. This forced Russel to miss action until week 10. Even upon his return, Russ was in fact not back to cooking. Wilson was a shell of himself. He never threw for more than 260 yards in a game the rest of the year. Russ's struggles impacted Metcalf's performance down the stretch. He averaged 9.03 ppg when Wilson returned and frankly that is skewed by one week in which he hit 27 points. Now Russel Wilson is mile high and it appears Drew "my team dumbed down my playbook because I stink that much '' Lock is going to be the next guy slinging it to the freak of nature.

His Value Will Likely Plummet More

I do not feel the need to explain why Drew Lock is bad. Doesn't take much statistical analysis. Just glance at his stats. I mean it. Just glance because if you look too long your eyes might burn. Again, that dude is now projected to be the Seahawks starter next year.

Barring a WILD trade or unless Lock sees a full moon and transforms into an adequate QB, DK Metcalf's QB next year is going to be a walking trash can. Injured Russ and Geno Smith were walking trash cans. QBs that are walking trash cans are not good for fantasy WRs! I already mentioned the splits between what Metcalf did with and without a good QB. That is going to continue.
"QBs that are walking trash cans are not good for fantasy WRs!"

-Andrew Teuscher
I get it Metcalf is a stud and a special talent (that's why I'll explain that he's a buy in just a moment). Even special talents and very good WRs don't often finish as WR1s without a good QB. Go check the list of top 12 WRs below. Just Diontae Johnson succeeded while being hitched to a bad QB for a full season. Metcalf is not only dealing with a bad QB though. He also has to deal with Lockett stealing some targets. Being a target monster is what allowed Diontate Johnson to crack this list. Guys who are also talented like DJ Moore (WR 19), Brandin Cooks (WR20), and Terry McClaurin (WR25) were all mid-WR2s at best.

Top 12 WRs via FantasyPros

Oh ya and for some reason Pete Carroll thinks it's still 1975 and he wants to run the ball instead of throwing it (unless it's the 1-yard line) and he wants to play at a very slow pace. That means less plays. Less plays are not good for fantasy. Last season Seattle ranked dead last in plays run per game. What do you think Carroll will want to do with Drew Lock at QB instead of Russel Wilson?

Now We Wait, and Then We Strike!

Fantasy is a "what have you done for me lately" kind of game. It takes one bad year for people to get off of a player. DK is about to play his 2022 season and we've established why he's going to disappoint. That means he'll have back-to-back years of leaving fantasy managers with a bad taste. Right now Metcalf is already appropriately sliding in redraft and dynasty league rankings. If managers of DK haven't sold him yet, they are likely convincing themselves that this year couldn't be too bad. Owners might go check what the 'hawks WR did last year and tell themselves, "well he was the WR12 last year in a bad situation." They probably did not check and see that a lot of his production came before Russ got hurt. After Drew Lock misses a wide-open Metcalf for the 74th time (this number will probably happen by week 2), go buy Metcalf. Instead of grabbing DK now, wait until he has a bad start to the season. He's not going to be a cheap buy, but he will be cheaper than he's been since his rookie year!

Wait, why would I want Metcalf if he's going to be stuck in Seattle??? The Seahawks GM came out and said they "intend" to have Metcalf stick around in the Northwest. No duh, they want to keep an absolute freak of nature! They also said they intended to keep Russel Wilson. The player empowerment movement is reaching the NFL. Go look at Davante Adams and Tyreek Hill. Both of these guys were in WAY better situations than DK is now and they went and pushed their ways out of town. DK is more of a head-case and outspoken public figure than either Hill or Adams. The odds he sticks around are slim if the Seahawks don't fix the QB position. Metcalf is even a free agent at the end of the 2022 season. He might not even need to be traded.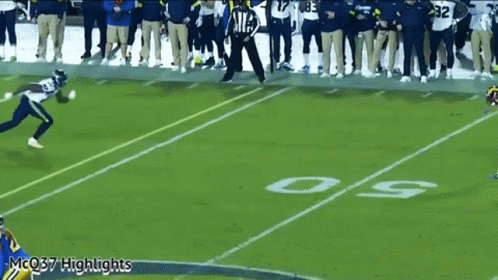 Metcalf making Jalen Ramsey look silly via tenor.com

Summary

Metcalf's value has gone down and rumors are swirling that he might get traded. Dynasty managers will be DEVASTATED when Metcalf stays put. He has been vocal about wanting to stay a Seahawk. Let's be honest though. Metcalf says that now, but once his performance and chances of winning are destroyed by bad QB play, he won't want to stay any longer. If he isn't able to put up stats, then once he's a free agent that is going to impact his wallet and he knows it. DK is a special talent and will do well once he forces his way onto a team that is actually going to offer fantasy upside. Buying talent over situation is one of the best ways possible to maximize fantasy value!

Don't pull the trigger now unless you know you're maximizing value by buying him for cheap. There is going to be a discount on DK similar to the discount on Valentines' Day candy on February 15. Be patient and then steal Metcalf from your leaguemates when the price is at an all-time low!
Andrew Teuscher is a fantasy-football enthusiast and certified fantasy try hard.