What to expect from Calvin Ridley in 2023?
The last time Calvin Ridley was on the field, I was pounding the table to buy him. He was underperforming, but all the underlying data supported a strong surge of production coming.
He was averaging 10.4 targets/game, he had 28% target share through his first four weeks, but he was only averaging 6.2 catches for 56.2 receiving yards per game through 5 games played.
"He was simply one of the best route runners, best technicians, and best separators in the NFL."

— Faraz Siddiqi—
If you haven't read his recently written Player's Tribune article, I highly recommend it. He talks about his physical (broken foot) and mental struggles going into his 2021 season. He claims he wasn't himself during his limited time on the field in 2021, and it showed.
The NFL has officially reinstated Ridley, and he believes he's better than ever, both physically and mentally. He thinks he can put up 1,400 yards with Trevor Lawrence this year. He's certainly capable, but it's obviously very hard to envision after he would be away from football for almost two years when the 2023 season kicks off.

Let's talk about who he was before he was suspended.
He was simply one of the best route runners, best technicians, and best separators in the NFL. He was one of the few smaller receivers who proved to be an anomaly at the WR position. He wasn't just a flanker (playing off the line), but he played X receiver as well, and shined.
He was one of the best in the league against man and press coverage, and if you think about it, he's really what the Jaguars need. You have Christian Kirk, who is an excellent slot receiver, and a very good complementary perimeter receiver in Zay Jones. This passing offense is going to be good… and Calvin Ridley coming back can be the catalyst for Trevor Lawrence to take a big step forward. 

⬆️
 Calvin Ridley's 2021 stats f

rom Fantasy Guides'

 

Dynasty Guide
⬆️

Since 2000, Ridley ranks 13th best among WRs who had the best 3-year stretch to start their careers. There's a reason to bet on him returning to form.
Currently, Ridley is the WR19 off the board in Underdog Fantasy best ball drafts. That would put him in the early 4th round. Ridley will be the best WR Lawrence has played with in the NFL, so I would rather have Ridley than Kirk in 2023, so I'd be off of Kirk's current 4/5 turn price on Underdog.
Can Ridley re-gain a 25% target share in this offense off the bat? I think so. Christian Kirk led the Jaguars with 22% target share, but Zay Jones was right behind him at 21%. If Kirk couldn't distance himself from Jones, Ridley is likely to overtake him in a significant way.
If Ridley is back to himself, I expect the target share to look something like:
Calvin Ridley 25%

Christian Kirk 20%

Zay Jones 18%

Evan Engram 14%
If he's 75% of himself, I expect the target share to be distributed between him and Kirk a little more.
Ridley 23%

Kirk 21%

Jones 19%

Evan Engram 14%
This would put Ridley between 135 and 150 targets, which would likely place him as a Top-20 targeted WR. As the WR19 off the board, it's not a stretch. He has two Top-20 WR finishes in his career so far.
I'm not sure his price leaves a whole lot of room for upside, so we might be drafting him close to his ceiling. There is a world where he finishes as a WR1 if Lawrence takes that step forward, but the chances of that happening is not high.
If you're drafting him as a WR2, that's reasonable - it's where I expect him be finishing most of the season. I wouldn't have WR1 expectations, but I do expect him to be a step above what Kirk was last year for fantasy.
---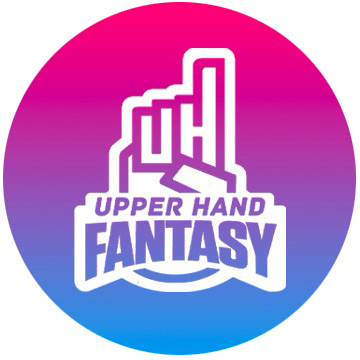 Faraz Siddiqi runs @upperhandfantasy on Instagram, where he gives daily fantasy football news and advice. Get even more news and advice on his website, podcast and patreon channels.
Want to see everything Faraz is up to?
Click Here!